Lucas Dawson-Melbourne Fashion Week
Australia is a wonderfully peculiar place and at times is the ying to the yang of the rest of the world. When other parts of the world ready for winter, Australia warms up in their spring season. This is also the fashion season where avant-garde trends and trendsetters descend on the fashion mecca's of the world for New York, Paris, Milan, and London Fashion Weeks.  Down under the fashion capital of Australia is Melbourne and during the first week of September, the fashion scene heats up with Melbourne Fashion Week. The season's hot new women's and men's wear were on bold display in a week chock-a-block full of runway shows, city-wide events, and high-style experiences.     
Lucas Dawson-Melbourne Fashion Week
Now in its 24th year, Melbourne Fashion Week(MFW) has cemented Melbourne as an international destination for fashion, retail, design and hospitality. MFW has created 150 activities created to promote 300+ designers in a week bursting full of fashion presented in various formats around the city. Beyond the runway there are all types of workshops, talks, parties, exhibitions, films and free fashion experiences.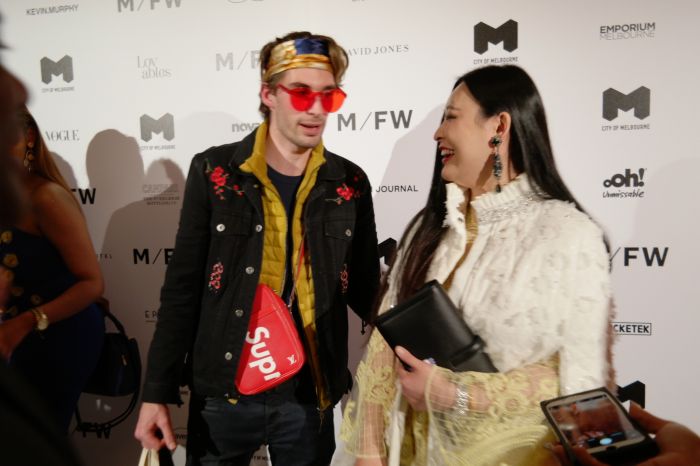 There is a certain buzz in the air during MFW and this is one city that knows how to put on a haute fashion week to rival the top fashion events around the world. Fashionista's from around Australia descend on Melbourne to see what's next as well as to be seen sporting their personal best-in-closet fashion and a chance to get clicked by the paparazzi.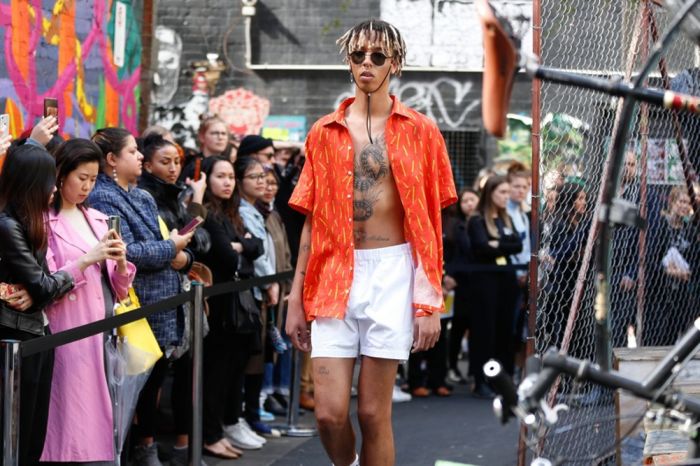 Lucas Dawson-Melbourne Fashion Week
A flash mob of fashion of sorts is the series of Fashion Pop-Ups which are Street Runway and Underground Shows that appear around the city. The organizers chose the most iconic area's around the city and staged Street Runway shows with top men's and women's wear designers.  In gritty city areas, the major tourist areas such as Federation Square or the Dockland, models adorned with edgy urban wear strutted during the mid-day hustle and bustle of the city as Melbournians experiences a fashionable disruption to their normal business day.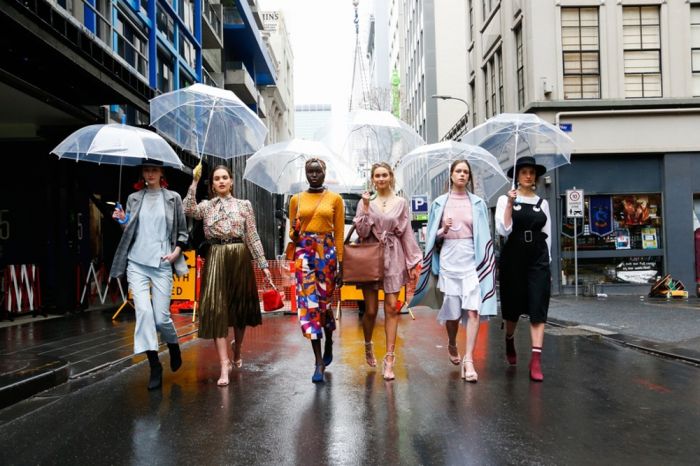 Lucas Dawson-Melbourne Fashion Week
Another unique display of fashion was the MFW Fashion Capsules. Around the city, curious glass enclosures sprung up in the midst of Melbourne's condensed pedestrian areas. A series of six glass boxes, the size small trailer, held inside a captivating mix of far-out fashion, digital art and a multi-media display. Think of the display windows of Manhattan's Sak's Fifth Avenue taken over by Tim Burton and Edward Scissorhands. Each capsule housed innovative creations by Victorian-based fashion installation, digital and video artists, designers, jewelers, artisans and filmmakers.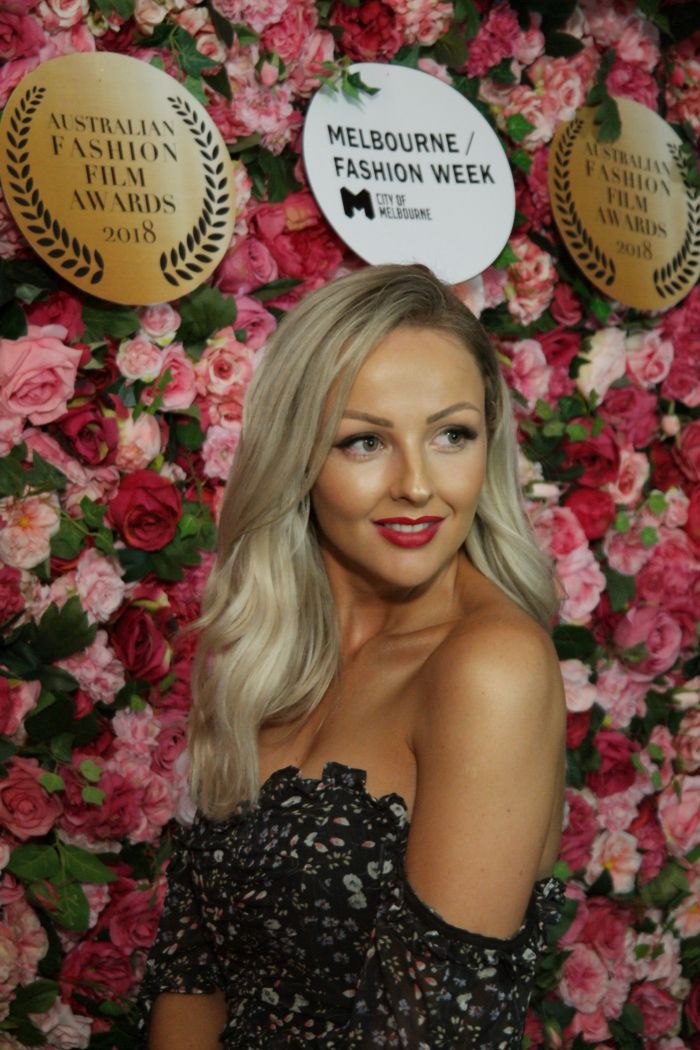 Fashion week has a number of wonderful events away from the fashion runways as well that showcase the impact of fashion in our lives. The cross section of visual art and fashion was further embraced with the integration of Fashion and Film with the Australia Film Meets Fashion awards. This event recognized the creators of films who integrated fashion as the film's centerpiece.  
THE PERFECT PARISIENNE
One look at this year's winner of Best Independent Fashion Film Winner, The Perfect Parisienne by Spanish filmmaker Roger Vivier, and one can see the impact that fashion can have in film.  The awards line up is similar to what one would find at Cannes or the Oscars with categories such as Best Australian Fashion Film, Best Cinematography, Best Fashion Styling, and People's Choice Award.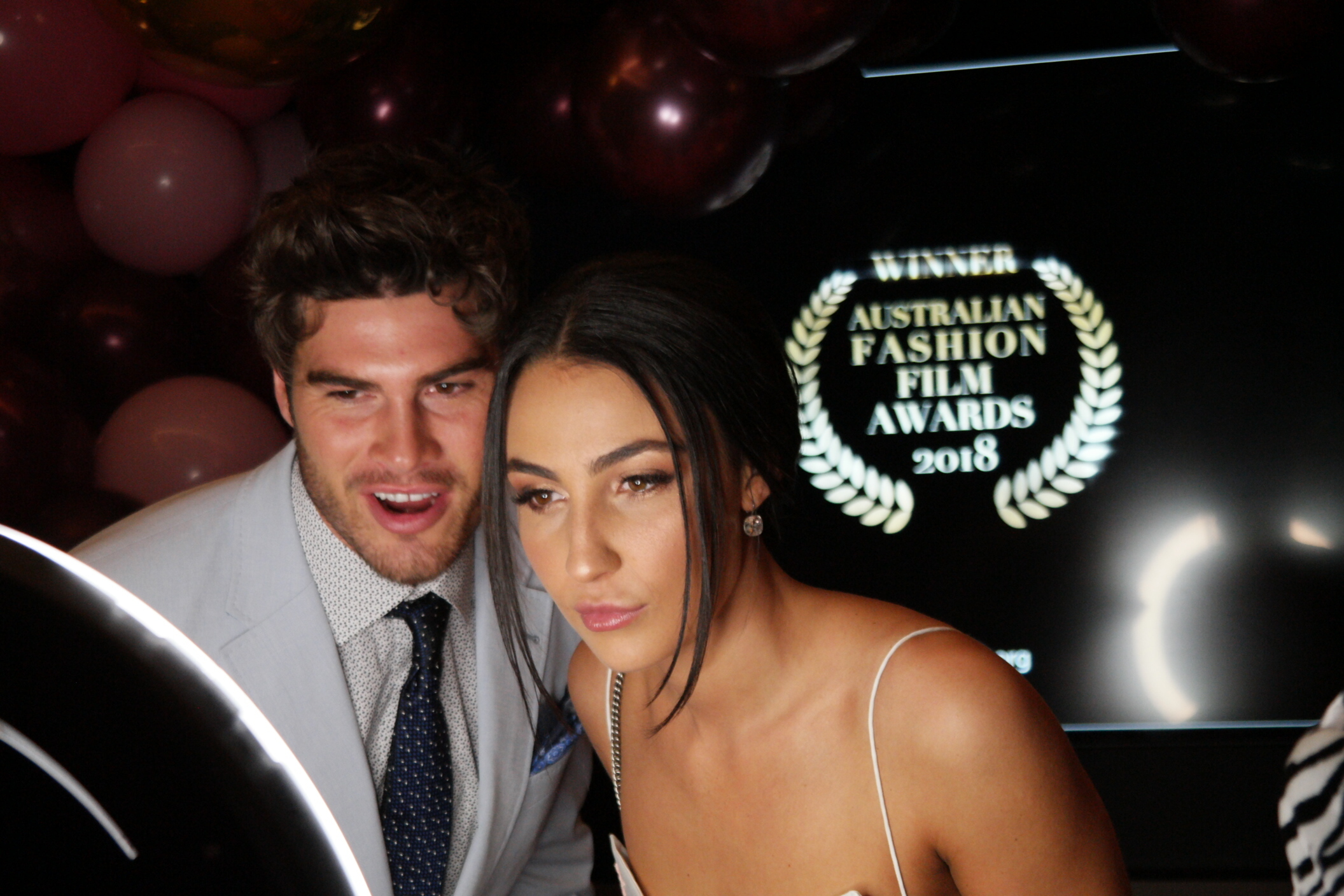 The Australia Film Meets Fashion awards took place at Melbourne's tony new hotel, the QT and hosted a cadre of local celebrities and fashionistas who paraded a display of haute couture for the clicking paparazzi in attendance as well as for their own selfies in front of the step and repeat.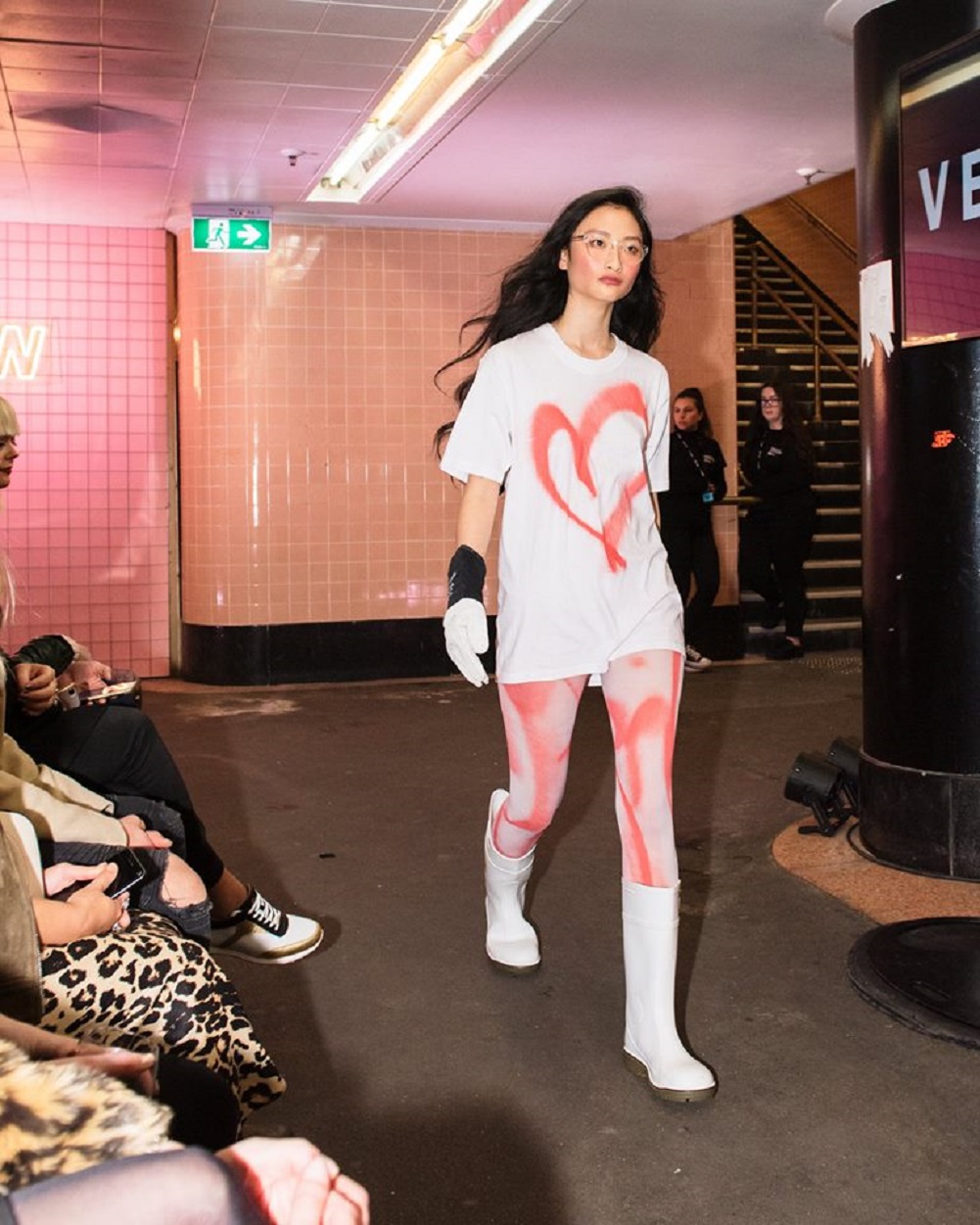 Lucas Dawson-Melbourne Fashion Week
Melbourne Fashion Week kicks off with an underground runway, literally, at the Degraves Underpass of the Campbell Arcade with an avant-garde collection of Melbourne Street Fashion runway shows. This, an emerging style known as Melbourne Edge showcased the designs from Dion Lee, Camilla and Marc, and Alpha60 as well as several hot student collections.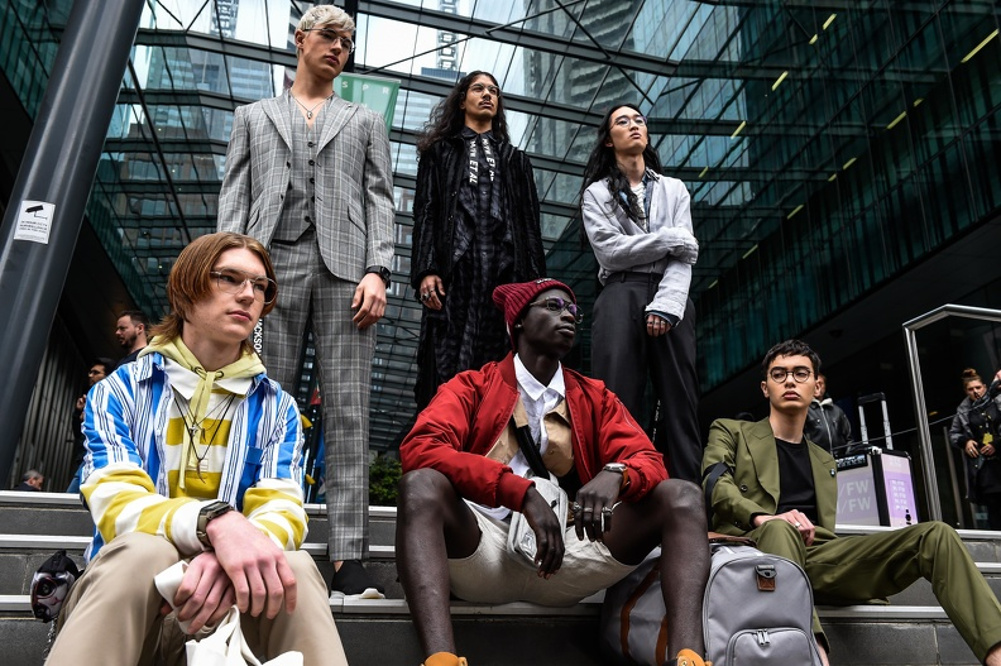 Lucas Dawson-Melbourne Fashion Week
One of the more admired collection that is defining Melbourne Street fashion is from local Melbourne label Verner. This season Verner season collaborated with friend and painter Gian Manik to create their collection titled 'Picture Sequences' with graffiti sprays, painterly markings, and hand-drawn scribbles are taken from the work of Manik and transformed into beautifully printed garments that 'fuse creative practices to find a new shared visual language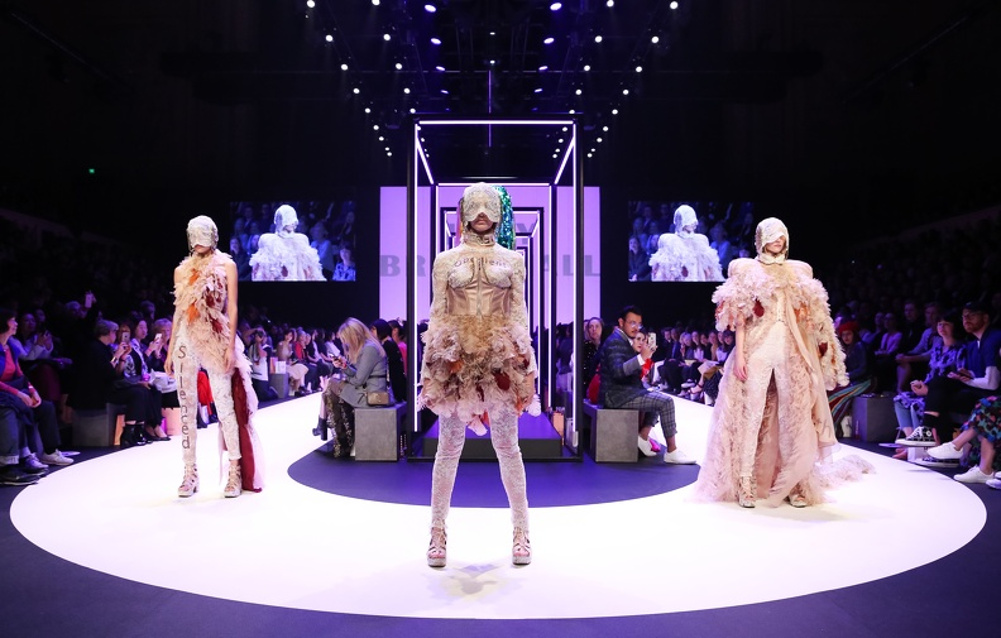 Lucas Dawson-Melbourne Fashion Week
MFW segways from the gritty streets to the posh scene of Melbourne's historic Town Hall. Steeped in grandeur and the history from the turn of the century nuevo gothic architectural treasure. It is akin to having fashion week in the White House or Buckingham Palace. The landmark was transformed into the likes of New York Fashions Week's Lincoln Center with a futuristic stage and auditorium seating as Australia's coolest trendsetters took their place in the coveted front row positions. Throughout the night Melbourne's fashion lovers sit and see the latest must-buy ready-to-wear looks, couture gowns and next-gen designs. As if watching a tennis match, heads swivel from left to right with as each new dress and model struts around the runway.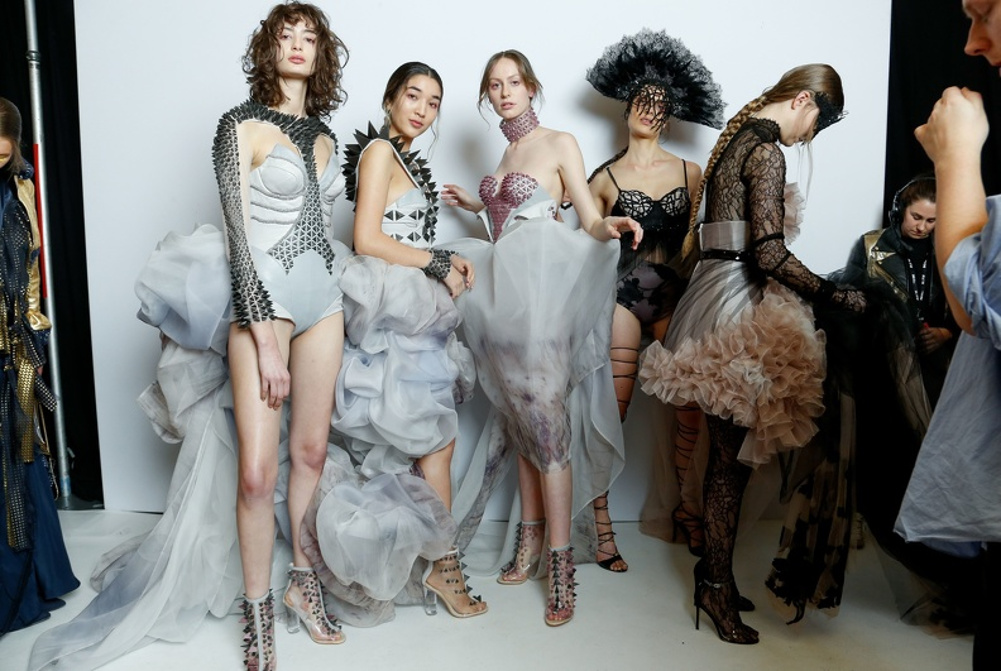 Lucas Dawson-Melbourne Fashion Week
The closing runway was a hot ticket in order to see the new season trends and must-have pieces. from international retailers such as Left Melbourne, Maje Paris, The Kooples, Zadig & Voltaire, Sandro Paris, Incu and Masons, showing Melbourne's most revered luxury and international women's and menswear from the likes of Kenzo, Acne Studios, Vivienne Westwood and more.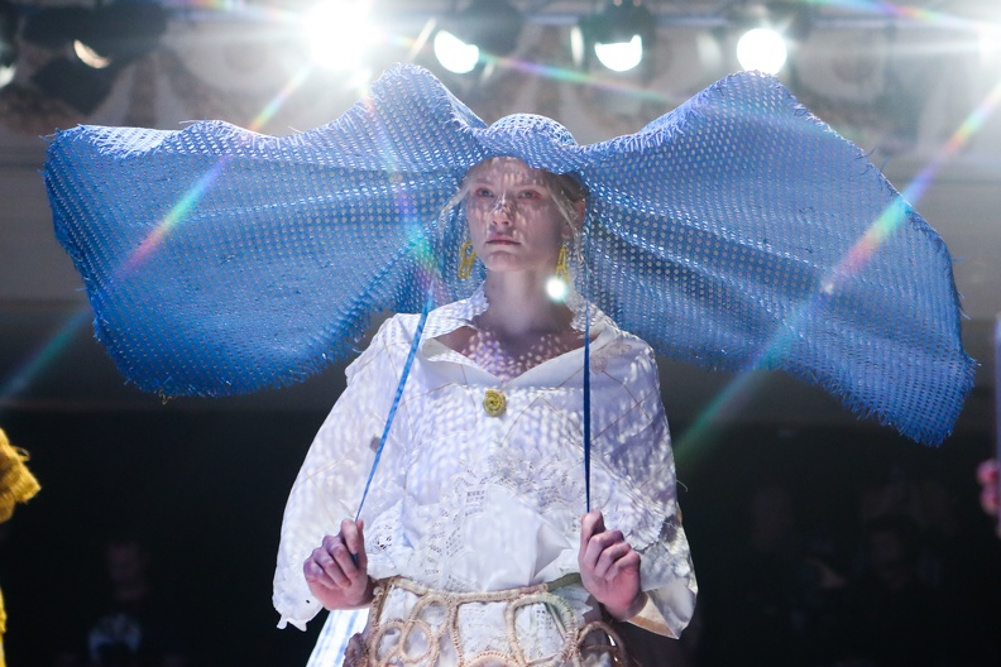 Lucas Dawson-Melbourne Fashion Week
MFW created a stage for 150 designers to be admired, discovered and purchased. The fashions featured a wide range of designers with styles from "what a hot mess" to "I would look good in that". But that is what fashion is; one's woman's avant-garde treasure is another's donated asap to Salvos.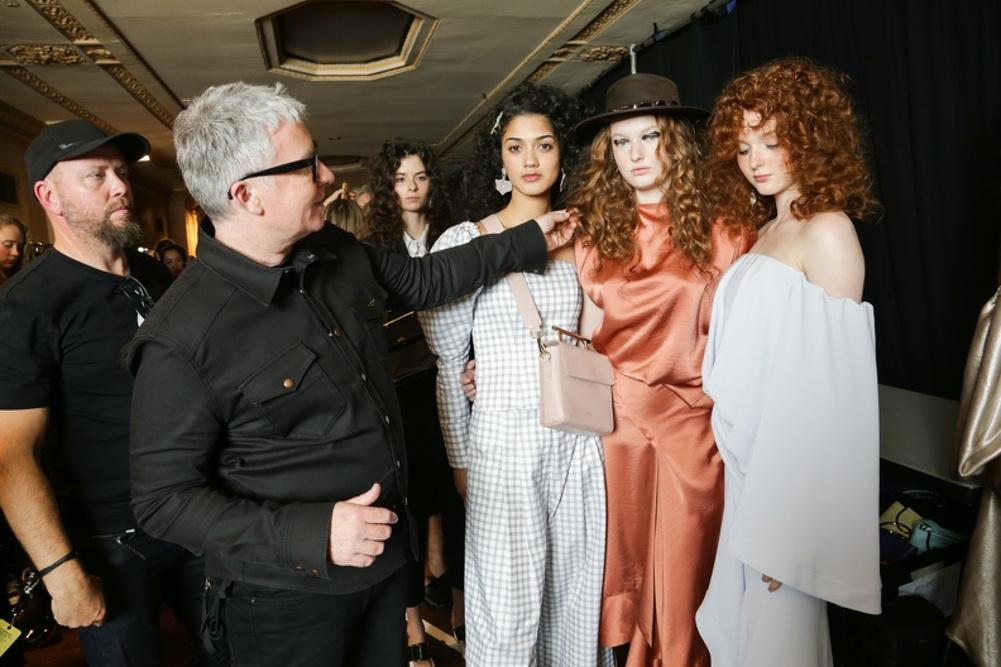 Lucas Dawson-Melbourne Fashion Week
The talented pool of 300+ designers with admirable showing are too many to mention. Here are a few that are most worthy of mention.
For their resort collection, that as part of the Town Hall Designer Series runways, Aje designers Adrian Norris and Edwina Forest have been fortunate enough to work within the archives of one of Australia's most prolific artists, Brett Whiteley. The Aje designers transformed his artworks into prints that feature heavily throughout the collection creating wearable artworks that are as unique as their muse.
Exquisite modern womenswear label Arnsdorf are trailblazers. Pushing boundaries within the industry in areas of business practice transparency, sustainability and ethical manufacture. Their current collection was inspired by the study of drapery in marble sculpture, and the idea of fluidity from the structure. Designer Jade Sarita Arnott says 'it is also an investigation into modern sophistication and codes of dressing. Volume and scale are exaggerated in some garments, while others have a subtle manipulation of form.'
This namesake label, Lee Mathews, which is going on nearly 20 years, has always had a strong signature style. But in a testing time for Australian fashion, Lee Mathews has seen it as an opportunity to inject some new perspective into the brand, whilst at the same time maintaining her strong stance on sustainability and effortlessly chic signature style. Focusing on traditional natural, biodegradable textiles like silks and organic cotton and linens, as well as new technology such as EcoNyl (a fabric made up entirely from waste nylon and recovered fishing nets).  
Melbourne born international superstar Martin Grant showcased his exquisite designs via Melbourne institution: Christine. Known for his elegance and uncluttered modernity, Martin's collection features precise tailoring mixed with voluminous silk silhouettes will float down the runway in an array of rich metallics and unique fabrics, staying true to Grant's simple yet spectacular signature style.
In between each runway show, Melbourne's elite meet behind the velvet rope of the VIP suites ensconced away on the second-floor terrace of the Town Hall. They delight in the details of decadence with delicious canapes and fine wine in a room where food meets fashion. The rooms are filled with everything from oysters to sweets galore and of course Moet bubbles flowing freely. One would easily bet that there were more photos taken in the form of selfies than on the runway as beauties in their own season's best dress jockeyed for position in front of the venue's step and repeats.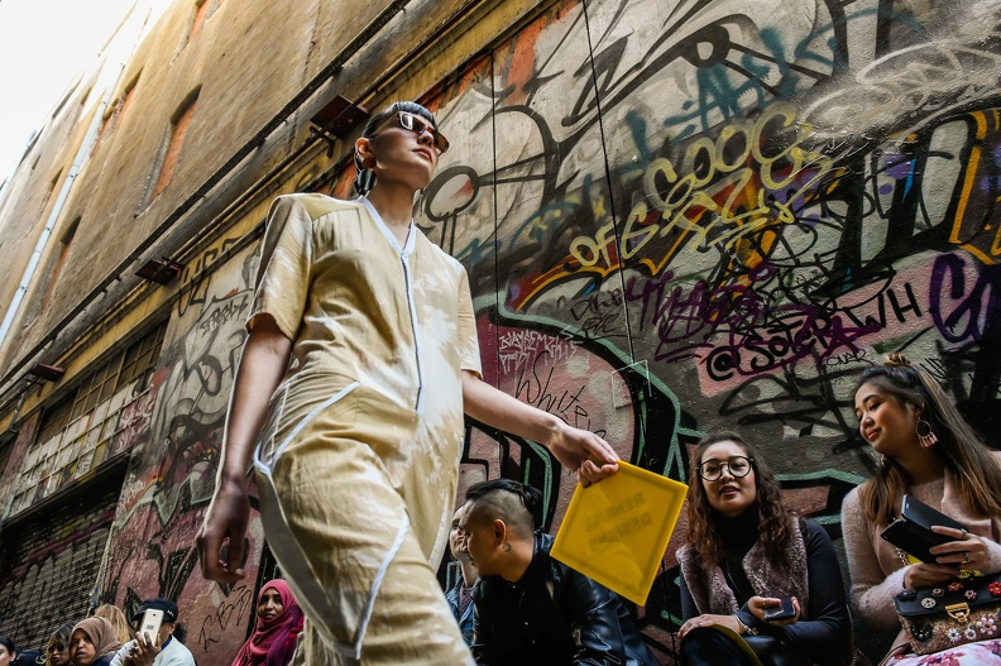 Lucas Dawson-Melbourne Fashion Week
Fashion is about the industry from fabrics to design to retail and the consumer. Without any of these elements, there is no fashion. Yet the unbridled creativity and talent of the designer are at fashion's core.  MFW is a place for the latest collections of established designers to be adored as well as a showplace for emerging designers to the discovered. Resort Wear, Street Gear, Far Out to Couture with 150 designers all having their day in the sun at Melbourne Fashion Week. Melbourne is a destination for all seasons, however, for lovers of fashion, MFW is the ideal time to visit the most stylish place down under.
Lucas Dawson-Melbourne Fashion Week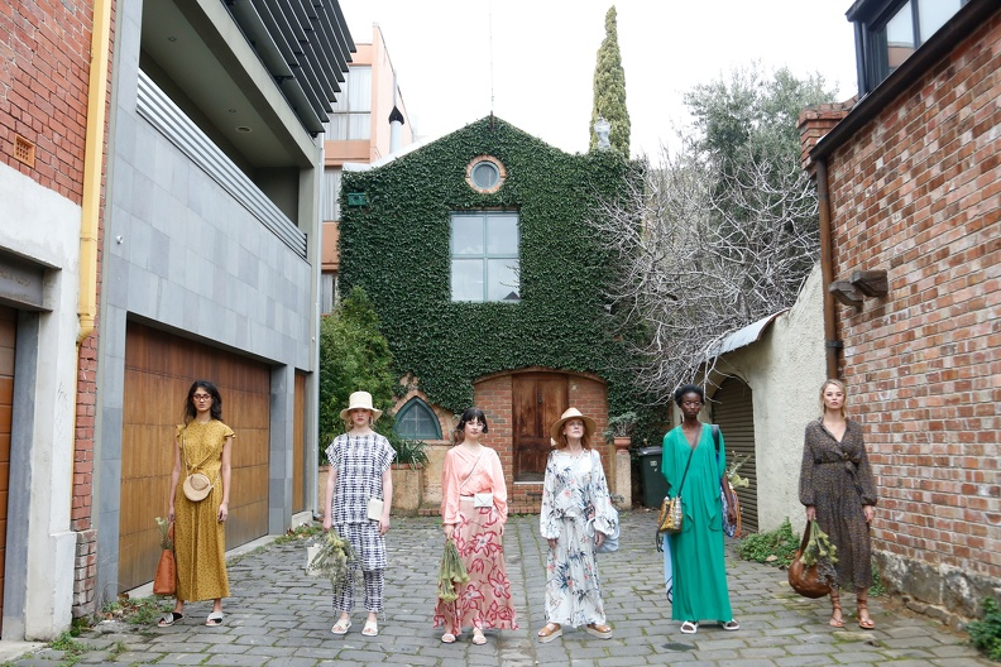 Lucas Dawson-Melbourne Fashion Week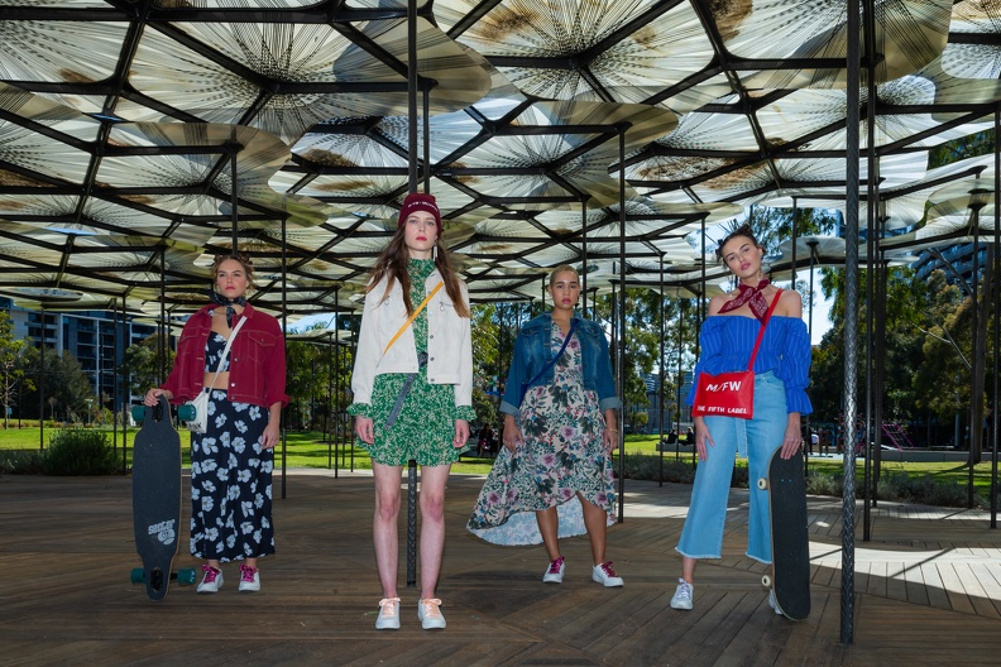 Lucas Dawson-Melbourne Fashion Week
Lucas Dawson-Melbourne Fashion Week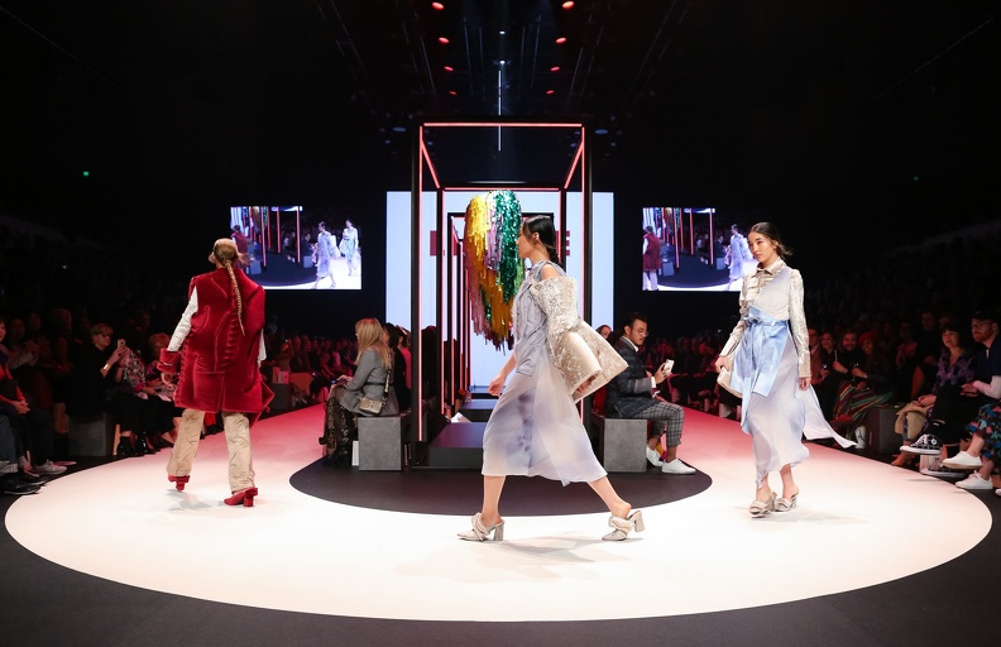 Lucas Dawson-Melbourne Fashion Week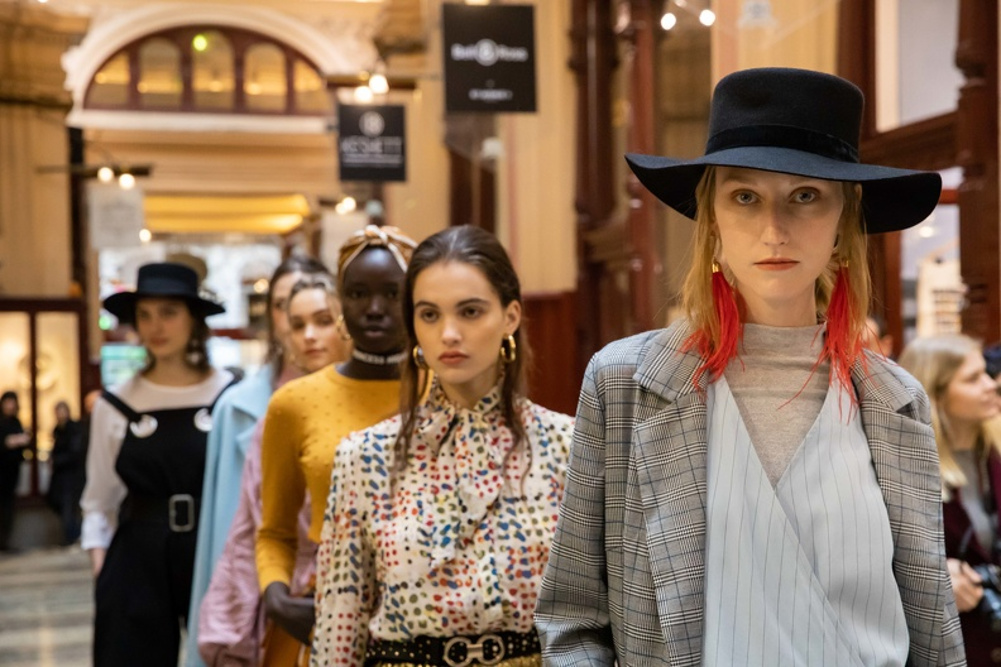 Lucas Dawson-Melbourne Fashion Week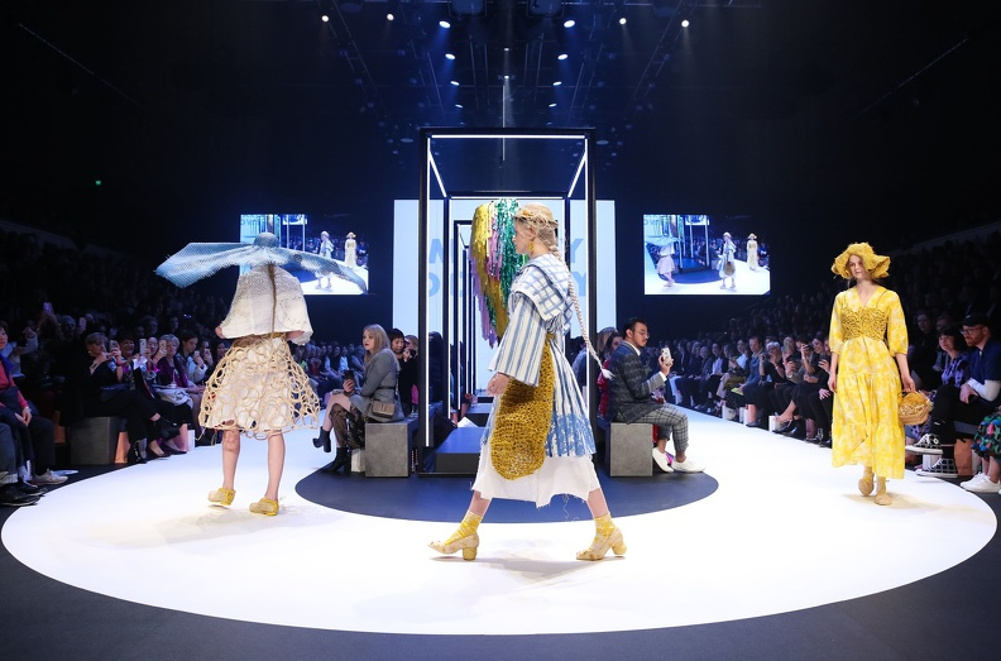 Lucas Dawson-Melbourne Fashion Week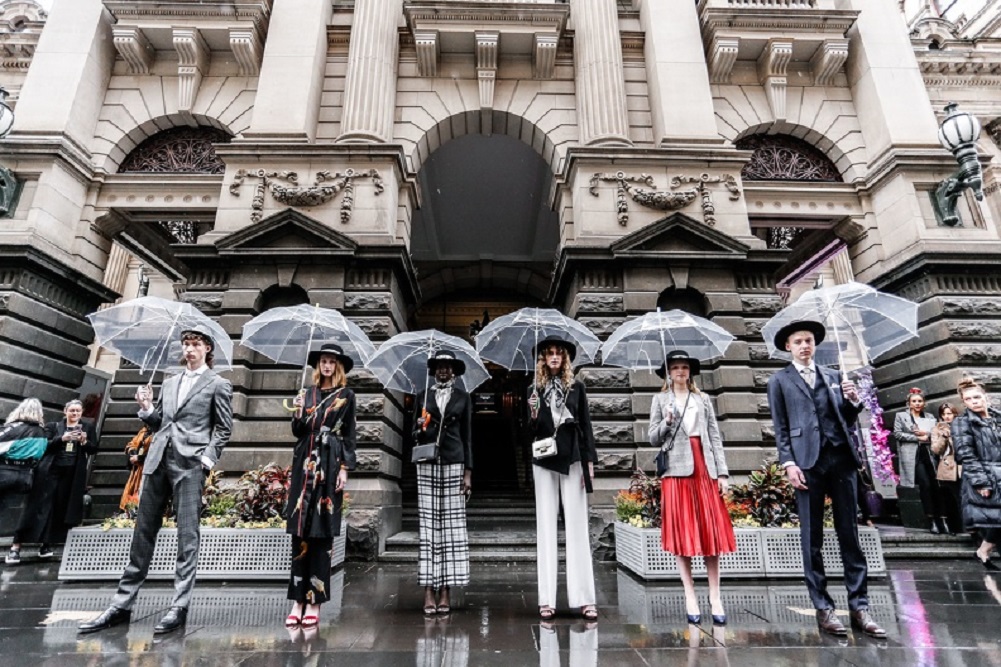 Lucas Dawson-Melbourne Fashion Week